Simone Schwarz-Bart's classic novel
The Bridge of Beyond
, which will be released by NYRB on August 20, 2013, is an ode to the spirit of the women of Guadeloupe in the Lesser Antilles, caught between a colonial past and an uncertain future. In her prose, Schwarz-Bart captures the rhythm of language in Guadeloupe, as well as the longevity of folk traditions, spirits and magic, alongside a Christianity brought to the islands by French colonists. More than anything else, this magical, heart-rending, beautiful book explores the challenges faced by women living on the Caribbean island, and the spirit with which they faced challenges -- finding a way to support themselves and their children; seeking and losing love; fighting to maintain dignity in the face of white privilege and the vestiges of slavery; balancing respect for tradition with the unstoppable onset of modernity.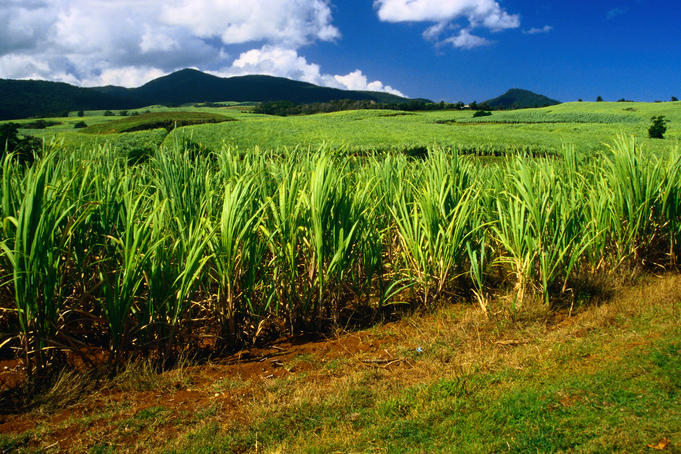 Sugar cane fields in Guadeloupe
Schwarz-Bart focuses her story on the lives of five generations of women in the Lougandor family, a chain of grandmothers, mothers, and daughters who fall in love, have children, suffer seemingly unbearable losses, and emerge from tragedy. Although Schwarz-Bart's narrative extends far into the Lougandor's past, the novel focuses primarily on the life of Telumee, who is raised by her grandmother Toussine after a series of family tragedies. Toussine herself is no stranger to loss. She lives alone in a hut in Fond-Zombi, in an isolated spot where she hoped her friend Ma Cia, a witch, would help her to make contact with her beloved husband Jeremiah's spirit. When Telumee leaves her family home in L'Abandonée to live with Toussine, she has a sense of excitement about the journey:
"We walked in silence, slowly, my grandmother so as to save her breath and I so as not to break the spell. Toward the middle of the day we left the little white road to its struggle against the sun, and turned off into a beaten track all red and cracked with drought. Then we came to a floating bridge over a strange river where huge locust trees grew along the banks, plunging everything into an eternal blue semidarkness. My grandmother, bending over her small charge, breathed contentment. 'Keep it up, my little poppet, we're at the Bridge of Beyond.' And taking me by one hand and holding on with the other to the rusty cable, she led me slowly across that deathtrap of disintegrating planks with the river boiling below. And suddenly we were on the other bank, Beyond: the landscape of Fond-Zombi unfolded before my eyes, a fantastic plain with bluff after bluff, field after field stretching into the distance, up to the gash in the sky that was the mountain itself, Balata Bel Bois. Little houses could be seen scattered about, either huddled together around a common yard or closed in on their own solitude, given over to themselves, to the mystery of the forest, to spirits, and to the grace of God."
Guadeloupe
The novel continues to trace Telumee's journey from childhood to adulthood. We see her playing with other children, helping Toussine with chores, and learning the rhythms of life in a community where centuries-old beliefs about spirits combined with the celebration of Christian festivals. As Telumee falls in love and moves from childhood to adulthood, her joys and her sorrows grow exponentially. Schwarz-Bart's lyrical prose depicts her passage through life with the cadences of Creole folk tales combines with lyrical, haunting descriptions of rituals, beliefs, and the beauty of the land surrounding her. Telumee doesn't divide landscape from people, the living from the dead -- in her culture, all elements and beings are interwoven, omnipresent.
Schwarz-Bart's descriptions of village life provide complex pictures of the combination of support and conflict in villages like Fond-Zombi:
"Sometimes there would be the sound of singing somewhere; a painful music would invade my breast, and a cloud seemed to come between sky and earth, covering the green of the trees, the yellow of the roads, and the black of human skins with a thin layer of gray dust. It happened mostly by the river on Sunday morning while Queen Without a Name [Toussine] was doing her washing: the women around her would start to laugh, laugh in a particular way, just with their mouths and teeth, as if they were coughing. As the linen flew the women hissed with venomous words, life turned to water and mockery, and all Fond-Zombi seemed to splash and writhe and swirl in the dirty water amid spurts of diaphanous foam."
As we follow Telumee through her life, we see finely drawn character portraits of her friends and enemies. They all bring to life the characters in this beautiful novel -- all the more beautiful because everyone is flawed, no one's life is perfect, but Telumee and her neighbors continue to strive.
Guadeloupe
I am inspired by so many aspects of this novel. Schwarz-Bart's prose captures the rhythms of stories passed from generation to generation. Seeing traditional beliefs side by side Christian ones provided a fascinating look into the complex culture of former slave communities. The visual descriptions of the landscape are striking. And, especially important to me, Telumee and Toussine emerge as three-dimensional characters who are inspirational in their ability to emerge from devastating tragedies. Highly recommended.