Margaret Randall
In her latest book Che on My Mind distills her experiences over a lifetime of work as a feminist poet, writer, photographer and social activist, considering throughout what Che Guevara has meant to her personally, artistically, and politically.
This is not a biography of Che Guevara, or a memoir, or a work of historical analysis. Throughout, Randall paints with a wide brush, relying on her own experiences and distillations of a lifetime of reading, writing, and activism to write her impressionistic essays. My first time reading the book, I was thrown a bit by her approach to certain historical questions, such as whether Castro essentially had abandoned Che Guevara to his fate in the jungles of Bolivia. I was looking for more traditional historical documentation to support Randall's assertions in these passages. However, after re-reading the book, I was able to adjust my focus. Randall very clearly states her approach to this volume as an exploration of her own impressions of Guevara, the impact he has had on her life, and how she understands his past and future relevance for social and political activists. Her examination of what Che Guevara means to her is most assuredly biased, but rather than being an unintended flaw, this is precisely what Randall means to focus on and explore. [b:Che on My Mind|17859206|Che on My Mind|Margaret Randall|http://d202m5krfqbpi5.cloudfront.net/books/1368426642s/17859206.jpg|25001874] is a personal document from a social activist and artist who, although she did not know Che personally, was deeply engaged in the Cuban revolution. Randall who seeks to document her own history with Che Guevara as a figurehead, an inspiration, and, at times, a focus for frustration.
Randall is also very clear about her own background. She was born in New York City in 1936, and has lived in Albuquerque, New York, Seville, Mexico City, Havana, and Managua. The biography on her website provides a succinct overview of her life:
"In the turbulent 1960s she co-founded and co-edited EL CORNO EMPLUMADO / THE PLUMED HORN, a bilingual literary journal which for eight years published some of the most dynamic and meaningful writing of an era....
"Margaret was privileged to live among New York's abstract expressionists in the 1950s and early '60s, participate in the Mexican student movement of 1968, share important years of the Cuban revolution (1969-1980), the first four years of Nicaragua's Sandinista project (1980-1984), and visit North Vietnam during the heroic last months of the U.S. American war in that country (1974)....
"In 1984, Margaret came home to the United States, only to be ordered deported when the government invoked the 1952 McCarran-Walter Immigration and Nationality Act, judging opinions expressed in some of her books to be "against the good order and happiness of the United States." The Center for Constitutional Rights defended her and many writers and others joined in an almost five-year battle for reinstatement of citizenship. She won her case in 1989. In 1990 she was awarded the Lillian Hellman and Dashiell Hammett grant for writers victimized by political repression; and in 2004 was the first recipient of PEN New Mexico's Dorothy Doyle Lifetime Achievement Award for Writing and Human Rights Activism."
(http://www.margaretrandall.org/Biography)
Graffiti at the building in Vallegrande, Bolivia where Che Guevara's body was laid out
Some specific themes run through Randall's writing in this volume. One of the most interesting to me was how she used her feminist lens to critique and (in some cases) come to terms with some aspects of Geuvara's history, particularly his relationships with women and his engaging in violence to further political aims. Randall's conclusions in some cases read as attempts to explain away less laudatory aspects of Che's life and persona -- her discussion of his possible homophobia was not especially convincing, for example. But at least she poses these questions, opening up space for her readers to ask their own questions. What to make of the fact that Che was a white man leading black men during his time in Congo? And how to come to terms with his ordering brutal executions in Cuba?
At the same time, Randall is quite compelling in her discussion of Che's influence on her as an activist. She speaks of his rising about his own severe asthma to work tirelessly for the causes he believed in, when he could have led a privileged existence as a doctor. She sees Che as having such a strong hold on her generation because of his commitment to work for social and political change at great cost to himself and his family. She also emphasizes that, to her mind, Che Guevara was motivated by great love, which fueled his work for change. His contradictions make him more human. And there may be lessons to learn from those contradictions too. For example, Randall explores how Che's idealism both fueled his commitment for change but also doomed his work in the Congo and Bolivia to failure.
Contrasting symbolism -- the second image is of graffiti in a Palestinian refugee camp
Randall concludes her book with a discussion of the significance that Che Guevara's image holds for 21st-century activists. Given the marketing behemoth that has spread Che's image throughout the world, and the controversies over whether he is a laudable symbol for freedom and equality or a mass murderer who should be condemned, this section emphasizes that we all construct and shape our symbols within the specific context of our cultures' beliefs, dreams, struggles, and conflicts. Will Che Guevara be a trendy symbol representing a surface-level commitment to a vague conception of freedom? Will he be an icon divorced of any clear message? Or will some take after Randall and use Che as a source of inspiration, a catalyst for questions, a symbol of change?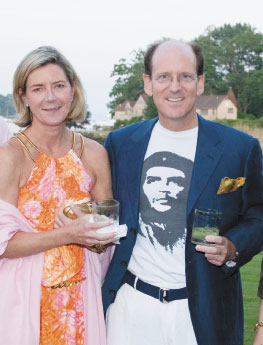 The marketing of Che Guevara in the 21st century
I received an ARC of this book from Netgalley in return for an honest review.