In the Summer and Fall of 1907, Rilke traveled to Paris. He spent many days rapt before the paintings of Cézanne in the Salon d'Autome, which was holding a memorial exhibition of the painter's work. Rilke captured his reactions and developing thoughts about art and artists in a series of letters to his wife, Clara. This volume contains translated excerpts from the letters, which transport the reader to Rilke's side.
Although the letters are excerpted (one reason why I dropped the rating down one star), each contains treasures, insights, beautiful evocations of the paintings Rilke has viewed, which serve as a catalyst for his developing thoughts of the nature of art. Rilke views himself as just learning to look at paintings and understand them, as he was not a painter himself. However, the qualities he values in the work of Cézanne (and of Van Gogh, whose work he viewed in a portfolio lent to him by a friend during his stay) easily translate into his work as a poet and a writer.
Cézanne, Mont Sainte-Victoire (1904-1906)
And, as would be expected from Rilke, the writing is brilliant throughout: vivid, imaginative, beautiful, real. His descriptions of individual paintings draw the reader by his side as he pages through a portfolio of Van Gogh's work in his rented rooms:
"His self-portrait in the portfolio looks needy and tormented, almost desperate, but not devastated: the way a dog looks when it's in a bad way. He holds out his face and you take note of the fact: he's in a bad way, day and night. But in his paintings (the arbre fleuri) poverty has already become rich: a great splendor from within. And that's how he sees everything: as a poor man; just compare his parks. These too are expressed with such quietness and simplicity, as if for poor people, so they can understand; without going into the extravagance that's in these trees; as if to do that would already be taking sides. He isn't on anyone's side, isn't on the side of the parks, and his love for all these things is directed at the nameless, and that's why he himself concealed it. He does not show it, he has it. And quickly takes it out of himself and into the work, into the innermost and incessant part of the work: quickly: and no one has seen it! That's how one feels his presence in these forty pages...."
(36)
Van Gogh, Self Portrait (1887)
Or standing next to him before a Cézanne still life in the Salon d'Autome:
"Here, all of reality is on his side: in this dense quilted blue of his, in his red and his shadowless green and the reddish black of his wine bottles. And the humbleness of all his objects: the apples are all cooking apples and the wine bottles belong in the roundly bulging pockets of an old coat."
(44)
Cézanne, Still Life (1893-1894)
"Chardin was the intermediary in other respects, too; his fruits are no longer thinking of a gala dinner, they're scattered about on kitchen tables and don't care whether they are eaten beautifully or not. In Cézanne they cease to be edible altogether, that's how thing-like and real they become, how simply indestructible in their stubborn thereness."
(47)
All his individual observations and reflections lead him to develop a deeper appreciation for the role of the artist:
"Ideally a painter (and, generally, an artist) should not become conscious of his insights: without taking the detour through his conscious reflection, his progressive steps, mysterious even to himself, should enter so swiftly into the work that he is unable to recognize them in the moment of transition."
(81)
There is much to recommend in this volume for readers who are engaged by aesthetics, who love Cézanne's artwork and want to see how it was appreciated and perceived so soon after his death, or who want to get lost in Rilke's beautiful prose. There is inspiration on every page.
My favorite passage, though, has nothing to do with Cézanne at all. It conveys Rilke's responses to three springs of heather that Clara sent him in a previous letter:
"… Never have I been so touched and almost moved by the sight of heather as the other day, when I found these three branches in your dear letter. Since then they have been lying in my Book of Images, penetrating it with their strong and serious smell, which is really just the fragrance of autumn earth. But how glorious it is, this fragrance. At no other time, it seems to me, does the earth let itself be inhaled in one smell, the ripe earth; in a smell that is in no way inferior to the smell of the sea, bitter where it borders on taste, and more than honeysweet where you feel it is close to touching the first sounds. Containing depth within itself, darkness, something of the grave almost, and yet again wind; tar and turpentine and Ceylon tea. Serious and lowly like the smell of a begging monk and yet again hearty and resinous like precious incense. And the way they look: like embroidery, splendid; like three cypresses woven into a Persian rug with violet silk (a violet of such vehement moistness, as if it were the complementary color of the sun). You should see this. I don't believe these little twigs could have been as beautiful when you sent them: otherwise you would have expressed some astonishment about them. Right now one of them happens to be lying on dark-blue velvet in an old pen-and-pencil box. It's like a firework: well, no, it's really like a Persian rug. Are all these millions of little branches really so wonderfully wrought? Just look at the radiance of this green which contains a little gold, and the sandalwood warmth of the brown in the little stems, and that fissure with its new, fresh, inner barely-green. —Ah, I've been admiring the splendor of these little fragments for days and am truly ashamed that I was not happy when I was permitted to walk about in a superabundance of these."
(27)
Rilke writes of the heather as though he were describing a painting in a gallery: his focus on the depth of color, his being transported by the reality of the object to a different place and time, his new appreciation for a place dear to him, but too easily taken for granted.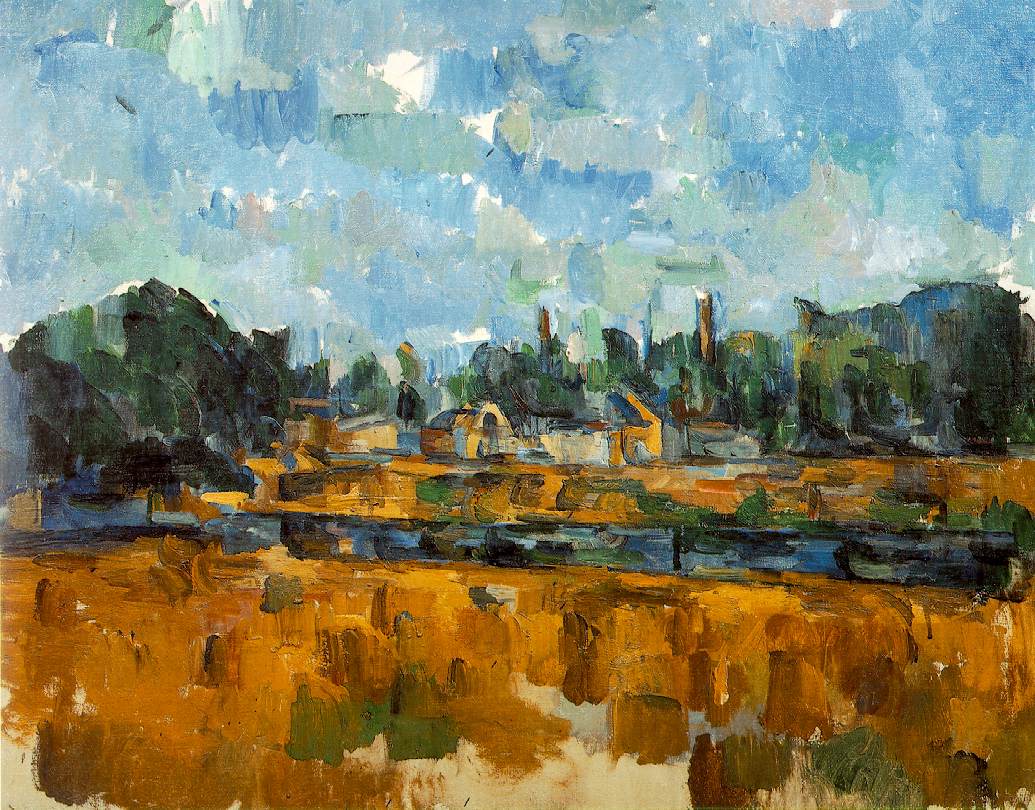 Cézanne, Bords d'une rivière (Riverbanks) (1904-1905)