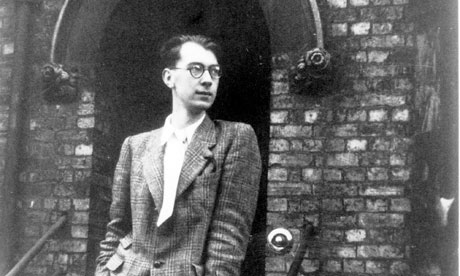 Philip Larkin in Oxford, 1943
Philip Larkin opens
A Girl in Winter
with a chapter, three paragraphs long, in which he describes England during World War II, suffering through a stormy winter, its people trying to carry on daily life through numbness and deprivation:
[The snow] lay in ditches and in hollows in the fields, where only birds walked. In some lanes the wind had swept it up faultlessly to the very tops of the hedges. Villages were cut off until gangs of men could clear a passage on the roads; the labourers could not go out to work, and on the aerodromes near these villages all flying remained cancelled. People who lay ill in bed could see the shine off the ceilings of their rooms, and a puppy confronted with it for the first time howled and crept under the water-butt. The outhouses were roughly powdered down the windward side, the fences were half submerged like breakwaters; the whole landscape was so white and still it might have been a formal painting. People were unwilling to get up. To look at the snow too long had a hypnotic effect, drawing away all power of concentration, and the cold seemed to cramp the bones, making work harder and unpleasant. Nevertheless, the candles had to be lit, and the ice in the jugs smashed, and the milk unfrozen; the men had to be given their breakfasts and got off to work into the yards. LIfe had to be carried on, in no matter what circumscribed way; even though one went no further than the window-seat, there was plenty to be done indoors, saved for such time as this.
Larkin's way with words was not a surprise to me;
A Girl in Winter
has many beautiful passages where he turns his skills as a poet to gorgeous descriptions of the English countryside. However, his ability to develop a complex, nuanced portrait of his main character, Katherine Lind, gives the novel its strength and emotional power. This is a sensitive, quiet novel, exploring the difficulty in penetrating people's facades to understand who they are and what their motivations are. I emerged with a strong sense of isolation, which provided me with a nuanced understanding of the loneliness faced by the English and European emigrants alike during World War II. The novel also presents a subtle, cautionary warning that this sense of isolation may not be confined to wartime, but may instead be part of the human condition, making it difficult to form true connections with others.
England, 1940
We first meet Katherine Lind in the second chapter, as she is working as a floater in an English library. We are not told much about her background: we know she is a European displaced by the war, whose English is good in part because of a summer she spent in England when she was 16. We never learn her home country (although Larkin does let us know it lies near the Rhine River), nor do we hear what happened to her and her family and friends at the hands of the Nazis (although we do know that she is quite alone, so the implication is that her recent past was traumatic). Larkin presents her as an intelligent woman who is working in a job below her capabilities, at odds with a peculiar and demanding boss, but fortunate to have even a precarious place in wartime England.
England, 1940
In the first section of the novel, Katherine's thoughts are torn among dissatisfaction with her wartime job, immediate complications related to her escorting home a colleague who is suffering from a toothache, and conflicted nostalgia spurred by her recently receiving a letter from the Fennels, the English family whom she had visited as a teenager. When she learns that a visit from Robin Fennel is imminent, she is torn between wanting to see her childhood pen pal again, and wanting to avoid a meeting with murky significance. She spends much of her time struggling with issues of translation -- not because her English is not good, but because of the difficulty in determining people's true intentions from their statements and actions. Although Larkin uses dialogue to present some of these conflicts, he anchors them in Katherine's own interior monologue throughout the novel. Her voice emerges as intelligent, perceptive, but lonely and fundamentally insecure over the accuracy of her perceptions.
Oxfordshire countryside
The long middle section of the novel is a prolonged flashback, in which Katherine remembers her initial correspondence with Robin as part of a pen pal program at her school, her surprise invitation to spend a summer with the Fennels, and her experiences with the family in Oxfordshire. When she arrives, her English is not yet good enough to pick up on all the nuances of meaning in spoken conversation, and cultural differences lead to complications in her discerning meaning from nonverbal communication as well. Larkin masterfully depicts the shifting ground from cultural gaps and misunderstandings, as Katherine desperately tries to understand Robin and his family.
Punting
Some of the cultural gap in the novel comes from the differences between Katherine's life in a faster-paced European town, and the slow, sleepy summer in the Oxfordshire countryside:
Undistinguished as [the village] was, Katherine found it fascinating. She looked curiously round the sides of cottages, where small ugly children were fussing, and at old people who sat on kitchen chairs in the doorways. When she saw their hands lying in their laps, or on the wooden arms of the chair, she thought it was strange that these husks, that had poured out their lives so distantly and differently from her, should for a second look at her with their bright eyes. From occasional doorways came dance music from Radio Luxembourg, and she could see dimly through the lace curtains on the windowsill mass-produced china figures and Sunday newspapers, read by men in shirt sleeves.
Larkin's compelling descriptions of the Oxfordshire countryside, along with some amusing sequences during which Katherine tries to learn traditional English pastimes, like punting, convey these cultural differences while also imparting a hazy golden nostalgia to this sequence of the novel.
River in Oxfordshire
In the concluding section of
A Girl in Winter
, Larkin returns us to Katherine in wartime England, as some of the questions she pondered about coworkers and friends are answered, but in ways that simply give rise to more questions. As she finds opportunities to become closer to some characters, the more remote she feels. In his concluding paragraphs, as Larkin returns to descriptions of the falling snow, he leaves us with a sense that Katherine is seeking, more than anything, for a sense of order and predictability in her life. She is seeking a peaceful ending, rather than a happy ending:
There was the snow, and her watch ticking. So many snowflakes, so many seconds. As time passed they seemed to mingle in their minds, heaping up into a vast shape that might be a burial mound, or the cliff of an iceberg whose summit is out of sight. Into its shadow dreams crowded, full of conceptions and stirrings of cold, as if icefloes were moving down a lightless channel of water. They were going in orderly slow procession, moving from darkness further into darkness, allowing no suggestion that their order should be broken, or that one day, however many years distant, the darkness would begin to give place to light.
Yet their passage was not saddening. Unsatisfied dreams rose and fell about them, crying out against the implacability, but in the end glad that such order, such destiny, existed. Against this knowledge, the heart, the will, and all that made for protest, could at least sleep.
I recommend this novel for its beautiful language, its themes concerning difficulties of translation and connection between people, and its compelling depiction of earlier places and times in England. Larkin's insights transcend a specific historical period, and instead touch on sources of isolation that we can recognize today.