In her first novel,
The Grass is Singing
(first published 1950), Doris Lessing begins with a short description of a crime on a farm in Southern Rhodesia (now Zimbabwe):
MURDER MYSTERY
By Special Correspondent
Mary Turner, wife of Richard Turner, a farmer at Ngesi, was found murdered on the front veranda of their homestead yesterday morning. The houseboy, who has been arrested, has confessed to the crime. No motive has been discovered. It is thought he was in search of valuables.
For Lessing, the crime itself isn't of interest -- it seems in some ways a foregone conclusion. Instead, she focuses on the intertwined hierarchies in Southern Rhodesia -- race, gender, class -- and uses her novelist's lens to dissect these hierarchies. She reveals how they are formed, what holds them together, and the profound toll they take on all who live according to their rules. Her first novel is unwavering in its portrayal of the damaging racial, class, and gender-based power dynamics in Southern Rhodesia in the early 20th century. It's all the more powerful because of Lessing's intimate focus on the psychological toll taken on the three main characters: Mary Turner, Dick Turner, and Moses, their African houseboy (a title that is difficult to type, but that says much about the racial hierarchy in Southern Rhodesia at the time).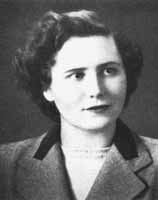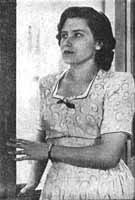 Doris Lessing, c. 1950
Lessing is well known for channeling her personal experiences into her writing. Her acute eye and gift for social analysis lend
The Grass is Singing
its matter of fact style and its psychological acumen. Lessing knew about unhappy marriages by living through her parents' frustration over their inability to make their maize farm in Southern Rhodesia profitable, as well as through her own marriage. She understood the particular pressures women in the veldt faced as they struggled to translate their lives on farms in Southern Africa into cultural terms understood by their Edwardian culture. Lessing's own experiences of being an outsider observing social conventions that limited women's independence and autonomy fueled the hopeless desperation in her descriptions of Mary Turner. She also saw first-hand the rigid rules imposed by the white settlers to ensure that their neighbors reinforced white rule. They had to treat their African workers as subhuman, or face the consequences -- social isolation and opprobrium.
Farm in Southern Rhodesia (now Zimbabwe)
African workers and children farmworkers at their compound
Mary Turner grew up in a town. When young, she saw the friction between her mother and father, and for that reason never thought much about marrying. As an adult, she has a job, lives in a boarding home for women, and enjoys being a friend and a confidante to men and women alike -- until an overheard conversation between two of her friends leads her to follow a more socially acceptable course and get married. After a very brief courtship, she marries Dick Turner, and only then discovers that he is a struggling farmer, engaged in series of unprofitable experiments to make money on his farm, but on his own terms. (For example, he is reluctant to engage in profitable tobacco farming because of its factory-like requirements, as well as its tendency to drain the soil.)
Lessing slowly and painstakingly unfolds the Turners' struggles -- with the land (including drought and disease), with local white society and its rigid code of conduct, with Africans whom they need to work the land, but fail to understand or treat like humans, and with each other. Over time, as Mary moves further from her husband and neighbors, she eventually begins to see Moses, the African who works for her as a houseboy, in a different light. This shift in their relationship sets into motion the catastrophic events that lead to the novel's conclusion.
Southern Rhodesia -- postcard c. 1940
Countryside of Southern Rhodesia
This is a novel that explores the gaps between individual and social expectations and reality. Lessing understands the profound dangers faced by people who lack a fundamental psychological understanding of themselves and each other, especially in a society that is built on inequalities. She unflinchingly portrays the staggering cost we pay as a society, and as individuals, when we reinforce a social order built on dehumanization and surface appearances.
Lessing took her novel's title from Eliot's
The Waste Land
. She includes the relevant passage as an epigraph:
In this decayed hole among the mountains
In the faint moonlight, the grass is singing
Over the tumbled graves, about the chapel
There is the empty chapel, only the wind's home.
It has no windows, and the door swings,
Dry bones can harm no one.
Only a cock stood on the rooftree
Co co rico co co rico
In a flash of lightning. Then a damp gust
Bringing rain

Ganga was sunken, and the limp leaves
Waited for rain, while the black clouds
Gathered far distant, over Himavant.
The jungle crouched, humped in silence.
Then spoke the thunder
-- T.S. Eliot, The Waste Land
It's difficult to imagine a more ominous, or perfect, opening passage to set the scene for the Turners' tragedy. Eliot's focus on an unforgiving landscape and on severe weather that is inescapable carries us to the African veldt where we are left, vulnerable and exposed to the dangers heading our way. It is all the more tragic when we realize these dangers are of our own making.