I had been meaning to read Hrabal's classic novella for quite a while, but last night I finally picked it up. Instantly, I was transported to the world of Hantá in a crumbling Communist Prague. Hrabal combines lyrical descriptions of the pleasures - and the necessity - of reading, with surreal passages revealing Hantá's tangible interactions with the figures in his books, in a world where reading and intellectual and creative engagement are no longer valued. It is a stunningly written, very original work in which Hrabal transcends a mere indictment of one regime, by tapping into the universal and transcendent joys of books and art, and the dangers of dehumanization that we face when we lose sight of those integral aspects of human life.
Hantá works by day compacting confiscated books and papers for recycling. He toils in a basement with an ancient compacting machine, and only mice and the occasional flies (and a gypsy or two) for company. He does not keep up with the efficient pace that his boss, and his society, demand - instead, Hantá lets the papers pile up to the ceiling as he searches the deliveries for rare books to rescue or, in some cases, to send off to a ceremonial end in the middle of a bale, opened to a much loved passage, and decorated by art prints that were also designated for destruction.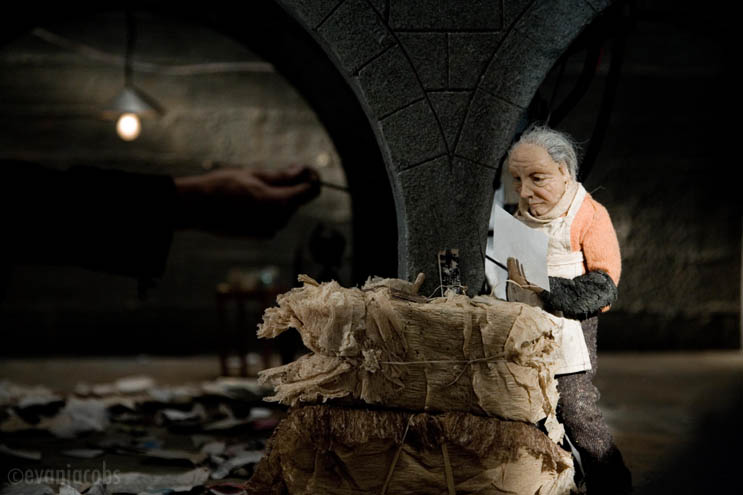 Hantá literally is surrounded by the ghosts of writers past. His small apartment is filled to the rafters with tons of books that he has rescued from pulping, to the point that the shelves he has built over his bed and in his bathroom present the constant risk of burying him:
"The way I look at it, my life fits together beautifully: at work I have books -- and bottles and inkwells and staplers -- raining down on me through the opening in the cellar ceiling, and at home I have books above me constantly threatening to fall and kill or at least maim me. The swords of Damocles that I've hung from my bathroom and bedroom ceilings force me to make as many trips for beer at home as at work...." (26)
As he works in his isolated basement, Hantá is visited by Jesus and Lao Tse Tung, who present him with radically different models for spiritual engagement on earth. As he walks through Prague, he is surrounded by the architectural ghosts of the classical world. His avocation rescuing and reading books has provided him with a unique education:
"I am a jug filled with water both magic and plain; I have only to lean over and a stream of beautiful thoughts flows out of me. My education has been so unwitting I can't quite tell which of my thoughts come from me and which from my books, but that's how I've stayed attuned to myself and the world around me for the past thirty-five years. Because when I read, I don't really read; I pop a beautiful sentence into my mouth and suck it like a fruit drop, or I sip it like a liqueur until the thought dissolves in me like alcohol, infusing brain and heart and coursing on through the veins to the root of each blood vessel." (6)
His reading also provides Hantá with a means to escape the dismal reality of his life:
"And I huddle in the lee of my paper mountain like Adam in the bushes and pick up a book, and my eyes open panic-stricken on a world other than my own, because when I start reading I'm somewhere completely different, I'm in the text, it's amazing, I have to admit I've been dreaming, dreaming in a land of great beauty, I've been in the very heart of truth." (14)
Throughout the novella, Hrabal seamlessly moves back and forth between Hrabal's reveries about philosophy and books, his memories of past relationships, and his observations of the society that is literally rotting under his feet. There are long, gorgeously written passages that I am tempted to quote at length, alternating with some very disturbing images of the decay and death surrounding Hantá. In the end, Hantá's basement sanctuary cannot hide him from the forces for progress that surround him.
Hrabal is known for developing central characters who seem simple, innocent, but who are more in touch with the spiritualism of life than the supposedly well adjusted, but bland, people surrounding them. Hantá comes across as a prophet, but one whom no one notices or hears. He sees the dangers of sterile efficiency as the primary goal for a society. Through him, Hrabal leaves us with the question of the value of a life stripped of intellectual and spiritual engagement, one with all rough corners smoothed away to a bland predictability and surface gloss. The book holds tremendous power and relevance for us, even reading across the span of time and space.
Note that the images on the review are taken from different film adaptations of the novella. See for example http://www.tooloudasolitude.com/Too_Loud_A_Solitude.html and http://www.handmadepuppetdreams.com/2007/2007_Too_Loud_A_Solitude.html.